More guests, more bookings, & more revenue
Outperform the competition with direct bookings
Dedicated local staff for owners & guest management
Multi-service marketing & advertising
Serving Northwest Florida & Coastal Alabama
Managing your investment property is a big responsibility ‐ put your trust in industry leaders with years of proven and unsurpassed experience. Learn more about our services and discover the Southern difference today.
Contact Us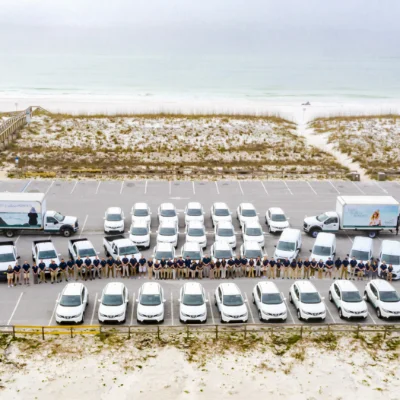 This Is Our Home. This Is What We Do.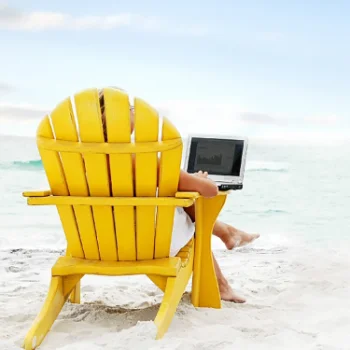 We Maximize Your Income
Looking for vacation rental management in Florida or Alabama? Let Southern Vacation Rentals be your choice. With over 25 years of experience, our unsurpassed approach to vacation rental management marks us as an industry leader. By exceeding your occupancy and revenue goals, we're able to net you more during every season.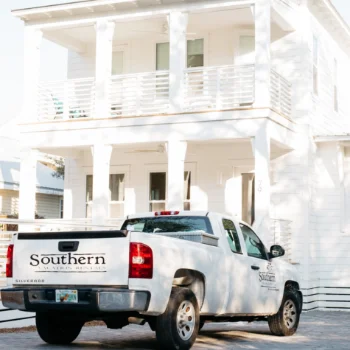 We Provide Expert Property Care
Your partnership with Southern Vacation Rentals includes professional property managers, housekeepers, maintenance technicians, and other pros who know your property inside and out along with in-house accounting, marketing, and Guest Ambassador teams. You'll benefit from cutting-edge systems and technologies along with the care and attention of a company that is locally owned and operated right here on the Gulf Coast.
We Use Proven Marketing Methods
When you partner with
Southern Vacation Rentals
, you gain the support of skilled marketers at the local and national levels who use our database of thousands of past guests (some who have been staying with us for decades!) and prospective guests to invite them to visit again and again. Our methods are proven: direct phone calls, emails, and social media posts.
VTrips, the parent company of Southern Vacation Rentals, is one of the fastest-growing vacation rental management companies in the United States. I got into this business because I was dissatisfied with the way my own rental property was being managed. With my background in leadership and internet marketing, I knew I could do a better job of it. And now I manage more than 7,000 vacation properties in resort communities throughout Alabama, Florida, Georgia, Hawaii, South Carolina, Maryland, New Mexico, North Carolina, Tennessee and Texas.
Our goal is to help you make a profit on your rental property by delivering more bookings than our competition. It's as simple as that.
The Internet dominates consumers' search for rental properties, and we are staffed with experts in search engine optimization (SEO), digital marketing and social media. Our websites are attractive and easy to use, with beautiful high-resolution photography, detailed property descriptions, more than 50,000 guest reviews (the negative as well as the positive!), and 100% safe checkout. But many guests still feel more comfortable working directly with an agent, which is why we maintain a large, knowledgeable staff of vacation specialists and offer longer hours (including weekends) than our competition. Phone calls and emails are answered promptly, and our follow-up and service are second to none.
Both our rental guests and our property owners are delighted with our service, and they tell their friends about us. Word-of-mouth marketing and a large guest database are our most valuable sources of new business.
If VTrips and Southern Vacation Rentals sound like who you want to manage your rental property, please contact us. We will be more than happy to talk with you about how partnering with us can maximize your rental income.
Steve Milo

Founder and CEO
Advanced SEO & site traffic
Professional linen program
Reliable housekeeping
Proprietary rating system
Dedicated local team
Dynamic pricing
Rental Management FAQs
What is your process like to get started?
Contact Southern Vacation Rentals or the VTrips location nearest to your property, and we can give you a complimentary rental revenue assessment of your property.
What are the start-up fees?
We recognize the value in long-term business relationships, and we are willing to show that in our zero-cost start up. Smart lock and thermostat installation, linens, professional photography, and even a comprehensive maintenance plan covered at no cost to the owner.
What is the fee for using your management company?
It varies slightly according to property location and size. Our managers will be glad to quote you the fee upon seeing your property.
How will I measure performance?
We provide you with a unique owner dashboard so you can review results from your properties on any day and at any time. We send you a monthly report to your email and to the owner portal. Our owner portal allows owners to view and book reservations, monitor work orders, and print monthly statements directly online.
Our company operates using accrual accounting. Revenue is reflected on the owner's account when the revenue is earned rather than when payment from the guest is received. We pay all of our owners on or before the 15th of each month for the month that just ended. So, if the guest stays at your property in January, you would get paid on your January statement, which will be released on or around February 15th.
What marketing does Southern do?
Southern's marketing strategy includes a variety of targeted online and offline tactics designed to increase revenue and occupancy.
Custom Dynamic Website
Nearly 3 million visitors to SouthernResorts.com annually
Comprehensive Social Strategy
Over 7 million annual impressions on Facebook, Instagram, Pinterest, and more.
Third-Party Partnerships
Advertising your property to more people through Vrbo or Airbnb.
Targeted Email Strategy
Regularly engaging with a database of nearly 400,000 users.
Robust Content Marketing
Blogs and area guides on our website keep guests planning for their vacation.
Strategic Paid Advertising
Reaching new and existing audiences through paid search and social ads
What kind of reporting do I get on my unit?
Our Client Success Managers provide reports on current bookings, year-over-year reservations, average daily rate, and pacing. We are also redesigning our Owner Portal so you will have access to these stats at any time.
What if I have a guest that I want to rent to?
This would be classified as an owner-referral reservation. Our owner portal makes it easy for you to reserve your property for yourself and your guests. Your Client Success Manager will provide initial training on how to operate the owner portal and will be available to provide additional assistance as needed.
You are welcome to send an email to OwnerAccount@VTrips.com. Include the guest's contact information in the email along with the following details: the guest's first and last name, phone number, email address, arrival and departure dates, and the price for rent you quoted. Please remember that there are additional taxes and fees when quoting your potential guests. This is important to avoid lost bookings due to a difference in quotes.
What happens if I have a balance due at the end of the month?
If expenses exceed revenue generated for the month, you can pay off your balance by sending a check to our corporate office for processing at: VTrips Owner Relations, 200 Executive Way, Ponte Vedra Beach, FL 32082. Please make checks payable to VTrips and reference your account number on the check.
How is owner communication handled?
Southern's Client Success Manager will be your main point of contact to provide information on your portfolio, Southern news, and more. You may also receive emails from Southern about important updates from time to time as well. If, for any reason, they are unavailable, the local office will be your main point of contact and is available to answer and address any questions or concerns you may have.
Is there anything I am required to have in my home?
Yes. We strive to make the guest experience the best it can be so we have some minimum standards that are required. We are happy to share a list.
If there is a service or repair done to my property, how do I pay for it?
The invoice can be included on your owner's statement and deducted from your monthly revenue. Please note that there is a 10% supervisory fee associated with all service orders that VTrips pays and includes on your owner's statement. Please keep in mind that when our service team provides you with a quote, it will not include the supervisory fee unless specifically indicated. Additionally, you can opt to pay the vendor directly; if so, please be sure this is communicated with the local office upon scheduling the work.
Who is my property manager?
As an owner, your main point of contact will be your Client Success Manager. You will also have an Operations Manager who oversees the condition of your property, ensuring it is in accordance with our Southern standards. In addition, Southern has a Revenue Team that utilizes state-of-the-art technology to manage your rates and maximize revenue.
Do I need a traditional phone line/landline installed?
No, a landline is not necessary unless you wish to have one for your own personal stay. We do require WiFi to be available. Virtually all guests come equipped with mobile phones, and the expense of maintaining a landline just for guest use is not needed.
Who pays the credit card fees?
Southern covers all credit card fees on guest reservations regardless if the reservation is procured by Southern or the property owner.
Who pays the cleaning fees?
Guests are charged the cleaning fees, in addition to the rental rates, when booking a reservation. Owners are only responsible for cleaning costs when they use the property and/or allow others to use the property at no charge.
In addition to the rental rates and cleaning fees, each paying reservation will be charged taxes and a service fee. Additionally, guests are offered optional travel insurance protection through a third-party company.
When is the best time to call?
Most local offices are open 6-7 days per week; however, the best time to call is Monday through Friday from 9:00 a.m. to 5:00 p.m. local time. The corporate owner relations team is available Monday–Friday, 8:30 a.m.–5:00 p.m. (EST) via phone at 904-385-3888, option 5, and via email at OwnerAccount@VTrips.com. While we attempt to always be available to speak to our owners, high call volumes may prevent this. Emailing your questions or concerns will ensure you receive a timely response to your inquiry. Anytime you send an email to our office, please include the name of your property or account number for faster processing. If you have a maintenance emergency after hours, please call 904-385-3888 and select option 2. Our service team is available 24 hours a day, 7 days a week.
Do I need to work with a management company?
No one knows your property like you do and deciding on how your property will be managed and who will manage it is a big decision. If you are considering self-managing your property view our
guide to Self Management here
.
Where are VTrips offices located?
We have office locations throughout Alabama, Florida, Georgia, Hawaii, New Mexico, Maryland, North Carolina, South Carolina, Tennessee, and Texas.
Learn More About Southern Vacation Rentals
Ready to get started? Contact us today to speak to one of our knowledgeable team members. We look forward to welcoming you to our Southern family!
Learn More