Things To Do in Gulf Shores, Alabama
Wanting to take a well-deserved trip to the beach? Look no further than Gulf Shores, AL! Not only will you experience the beautiful beaches, but you can also enjoy the many things to do in Gulf Shores, AL! We have broken down our favorite places to stay, activities, and restaurants in Gulf Shores to help you plan the perfect weekend at the beach.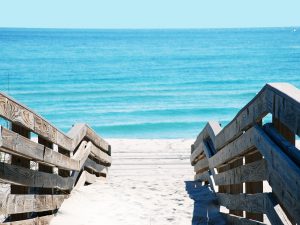 Where To Stay
Clearwater 3A
Choose Clearwater 3A for the picture-perfect views of the Gulf. With ample space for eight guests, this Gulf Shores, Alabama condo rental is perfect for a family getaway to the beach! Unwind after a long day at the beach on the private balcony or whip up a home-cooked meal in your fully equipped kitchen. Need a break from the beach? Spend the day in the beachfront community pool or walk along the boardwalk.
Royal Palms 906
Feel right at home in Royal Palms 906! This beachfront condo in Gulf Shores, Alabama features space for six people, a fully equipped kitchen, and gorgeous views of the sugar-white sand beaches. Royal Palms also features exciting resort amenities including an outdoor pool, sauna and steam room, community grills, and so much more!
Island Towers 603
From spacious accommodations for eight to incredible resort amenities, you are going to love your stay at Island Towers 603. Step out onto the private balcony and soak in the view of the Gulf. Spend your days on the beach, or experience all the resort has to offer including a beachfront pool, fitness center, and barbecue grills.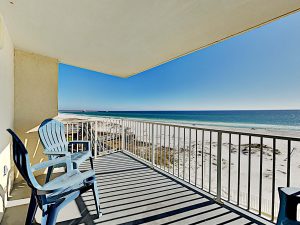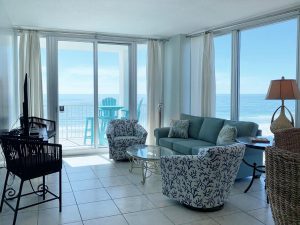 Things to Do in Gulf Shores
Sail Wild Hearts
Need a break from the beach? Get out on the water with Sail Wild Hearts! Set sail on an extraordinary open-ocean catamaran. Sail Wild Hearts offers sunset cruises, dolphin tours, and three-hour adventure sails. Spend your day sailing along the coast and enjoy an island stop where kayaks, paddleboards, and snorkeling equipment will be provided for you. This is one activity in Gulf Shores that your kids will love.
Fishing Charters
Gulf Shores is home to multiple different fishing tournaments throughout the year. Because of this, the area is packed full of knowledgeable charters who guarantee a good time! View a list of our fishing charter in Gulf Shores, Alabama recommendations below.
The Beach
What better way to spend your day than lying in the warm sunshine listening to the waves crash against the shore? You may be staying in a beachfront condo in Gulf Shores, but if not, we've got you covered! Visit Gulf State Park to enjoy two miles of beaches and tons of activities for the whole family! From hiking to biking this is one destination you will want to visit over and over again.
Where to Eat
Pink Pony Pub
Located directly on the beach in Gulf Shores, the Pink Pony Pub is not only known for delicious crab claws, but also for surviving the test of time and natural disaster. From hurricanes to the rise of condo mania, Pink Pony Pub is honored to continue to serve delicious food to the people of Gulf Shores!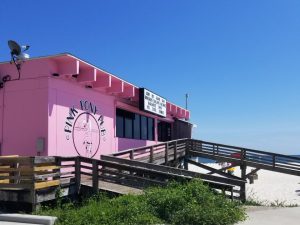 Fisherman's Corner
Enjoy casual fine dining with a Cajun flair at Fisherman's Corner, a popular restaurant near Gulf Shores. A couple of must-try items on their menu include their Famous Bread Pudding, Cajun Mac & Cheese, Debris Fries, and New Orleans BBQ Shrimp. Not only do they offer great food, but also an incredible atmosphere.
Chocolate Corner & Ice Cream
You shouldn't spend a weekend enjoying delicious dining without visiting Chocolate Corner! They are a locally owned business that specializes in all things sweet. From homemade chocolates to iced lattes they have something for everyone.
There are so many fun things to do in Gulf Shores, Alabama! Visit our Gulf Coast Guide for an extensive list of family-friendly activities, delicious dining, and more.