Steak and Shrimp For Two at the Beach
Valentine's Day is coming up! What better way to celebrate this romantic holiday than a long weekend with someone special at the beach? Book your February getaway in one of our beach vacation rentals and savor some time for two at the beach. Gulf views, breathtaking sunsets, a walk on the beach – sounds like the perfect weekend for us! To really impress that someone special, whip up this recipe for steak and shrimp for two at the beach.
If you have never cooked steak before, don't be intimated! It's much simpler than you think. All you need is your favorite cut of meat, a cast-iron skillet, and some patience. If you aren't sure which cuts of steak to buy, butchers at your local grocery store will be able to help. The same goes for shrimp – when shopping for fresh shrimp, be sure to ask for shrimp that is already cleaned, deveined, and shelled. This will make preparing the shrimp much faster, giving you more time to enjoy a meal with that special someone.
Or, if you prefer to go out to dinner on Valentine's Day, check out one of our local favorites, Louisiana Lagniappe. With locations in Destin and Orange Beach, you can still vacation in your favorite destination while enjoying a delicious meal.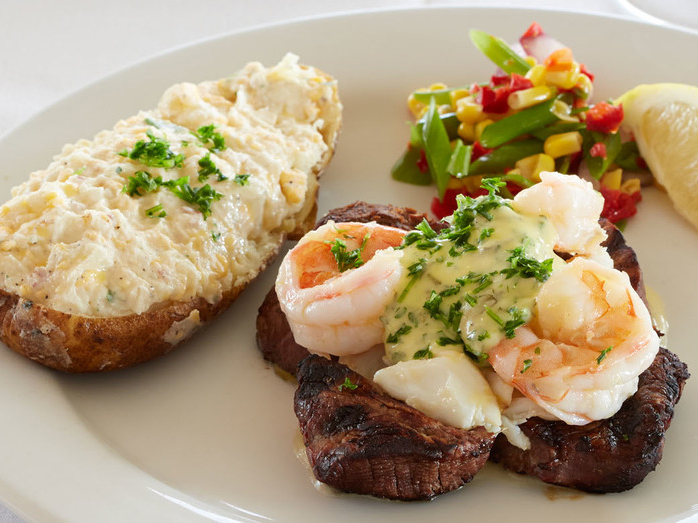 Image courtesy of Louisiana Lagniappe
Steak and Shrimp Recipe
For the steak:
Two cuts of your favorite steak
1 tbsp avocado oil
1 tsp kosher salt
3/4 tsp freshly ground black pepper
2 tbsp butter
2 sprigs fresh thyme
2 garlic cloves, peeled and smashed
For the shrimp:
2 tbsp butter
2 tbsp extra virgin olive oil
5 cloves minced garlic
1/4 cup dry white wine
Salt and pepper to taste
1 lb shrimp (cleaned, deveined, and shelled)
2 tbsp chopped parsley
Juice of one lemon
To cook the steak:
Let the steaks rest at room temperature, about 30 minutes to an hour. Once the steaks come to room temperature, pat dry with a paper towel then season generously with salt and pepper.
Heat the avocado oil in a cast-iron skillet over medium-high heat. Place steaks in the skillet and let cook until the bottom side is browned (about three minutes).
Flip and continue to cook until the steak is about 10 degrees away from your desired doneness.
Reduce heat to medium-low, then add your butter, garlic, and thyme.
Using an oven mitt, grab the skillet's handle and tilt he pan so that the butter pools to one side. Spoon the butter over the steaks (this is called basting) and continue to cook until the steak registers the desired doneness. Use a meat thermometer to check the internal temperature. Basting should take about one minute.
Transfer to a plate or cutting board and let rest for about five more minutes before enjoying!
To cook the shrimp:
In a large skillet, melt butter and olive oil. Add garlic and sauté until fragrant, about one minute.

Add the wine, a pinch of salt, and plenty of black pepper. Bring to a simmer and let the wine cook down for about two minutes.

Add shrimp and sauté until they just turn pink, three to five minutes depending upon their size. Stir in the parsley and lemon juice once the shrimp is cooked.

Toss to combine. Remove from heat and season with salt and extra pepper as needed.

Enjoy!
Visit our blog to see what else we're cooking up!