State Parks in Gulf Shores, 30A, and Perdido Key ~ Southern Vacation Rentals
With fall on the horizon, it finally means that temperatures will soon drop, making spending time outdoors a breeze. There is an abundance of ways to enjoy the great outdoors, from state parks in Gulf Shores, 30A, and Perdido Key to, of course, the beach! Spending time outdoors has never looked so appealing. If you're coming on vacation to relax and unwind, getting out to explore these state parks is a must. Take a look at some of the state parks in Gulf Shores, 30A, and Perdido Key to get a real sense for the beauty of Florida and Alabama's coast. There isn't anything else like it!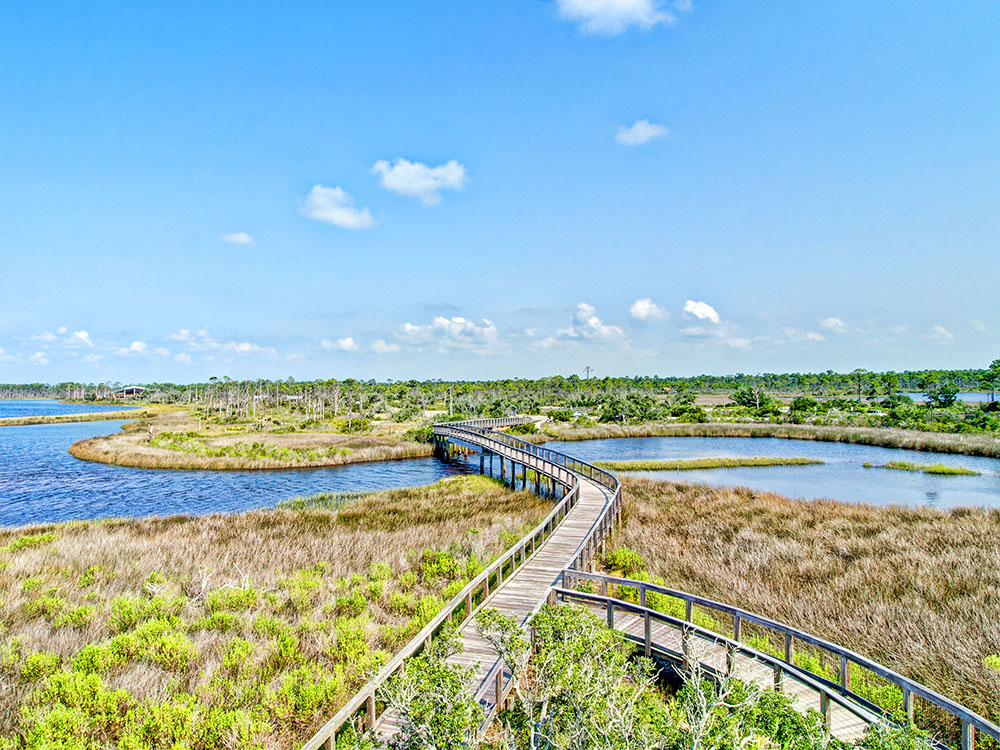 Gulf Shores
Nature lovers, rejoice! Despite its coastal location, Gulf Shores is home to some of Alabama's best state parks and trails. Gulf State Park, one of the state parks in Gulf Shores, consists of 6,500 acres of federally protected land and 2.5 miles of beach. That's a lot of land to explore! The area is also home to a Gulf fishing pier, three freshwater lakes, and a nationally recognized scenic trail. Do you love to hike nature trails? Then you're in luck since Gulf State Park is home to 27 miles of enhanced paved trails. There are also 496 sites for camping at this state park in Gulf Shores, so bring your tent or RV and settle down for an evening or two of fun!
In addition, Gulf Shores is also home to Bon Secour Wildlife Refuge, a 7,157-acre National wildlife refuge located on the Fort Morgan peninsula. The name Bon Secour comes from the French meaning "safe harbor." The translation is incredibly appropriate for the refuge's mission of providing a safe space for native flora and fauna. The refuge strives to keep wildlife way from harm, allowing it to thrive in its natural habitat. Bon Secour National Wildlife Refuge protects the last remaining undisturbed beach mouse habitat found in Alabama, and is even home to nests for Loggerhead, green, and Kemp's Ridley sea turtles. Visitors at Bon Secour can hike, swim, take guided walks, and more.
Interested in helping the Ben Secour National Wildlife Refuge running? Visit their website to learn how you can become a Friend of Ben Secour.
For more things to do on vacation in Gulf Shores, visit our Gulf Shores Gulf Coast Guide. 
30A
30A's abundance of state parks stretch all across its beach communities, from Point Washington State Forest to Topsail Hill Preserve State Park and Grayton Beach State Park. No matter where you are staying on 30A, you can easily find a state park to explore. It's the perfect chance to reconnect with nature and discover the true beauty of the area.
Our vacation rentals at Topsail Village enjoy a great location to Topsail Hill Preserve State Park, one of the top rated parks in the nation. Part of the Great Florida Birding Trail and with over 13 miles of trails, it's a nature lover's paradise. Freshwater coastal dune lakes, miles of Gulf waters, and more make visiting here feel like a dream come true. Paddling, picnicking, guided tours, wildlife viewing, and so many other activities await!
Additionally, Deer Lake State Park is known as one of 30A's best-kept secrets for a good reason. A secluded and undisturbed beach, quarter-mile dune boardwalk, and a serene location are ready and waiting. Hike the half-mile Blue Trail bordering Deer Lake, one of South Walton's rare coastal dune lakes. Deer Lake State Park is the relocation site for the endangered Choctawhatchee Beach Mouse.
To learn more about state parks in Santa Rosa Beach, visit the Florida State Parks website.
Whether you're looking for adventure or leisure along 30A, our 30A Gulf Guide has you covered!
Perdido Key
Meanwhile, over in Perdido Key, Big Lagoon State Park is ideal for experiencing adventure on vacation. Known as a gateway for the Great Florida Birding and Wildlife Trail, Big Lagoon State Park is home to 23 species of wood-warblers in addition to ducks, sandpipers, and black-bellied plovers. For the adventure traveler, start a journey along the 1,515 mile Florida Circumnavigational Saltwater Paddling Trail that covers the entire state. The park also offers swimming, fishing, boating, and camping. For bird-watching and nature-enthusiasts alike, Big Lagoon State Park is a true sanctuary. Be sure to bring your binoculars, because the park also has a three-story observation tower!
Discover your new favorite activity in Perdido Key! Visit our Perdido Key Gulf Coast Guide to get started.