If you've heard it once, you've heard it a thousand times – spring bodies are made in the winter. And, with warmer days less than 12 weeks away, now is the time to start training (and booking). After all, there's no better place than the beach to show off your hard work. The even better news? It wasn't all for nothing; there are plenty of ways to keep your fitness regimen alive, even on vacation. Tennis, paddle boarding, biking – we promise, there is always a way to stay active whether you choose to vacation in one of our 30A rentals or Gulf Shores condos.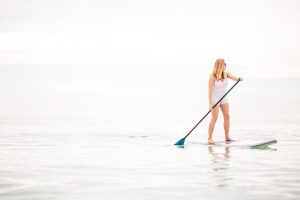 Paddle boarding is a fun and relaxing activity that most anyone can do. It's also one of the best workouts out there. Grab a board and paddle through the pristine waters of the Gulf Coast. It's so much fun, you won't even realize you're working up a sweat. From SUP racing and paddle board tours to yoga and causal cruising, you can burn anywhere from 305 to 1,125 calories per hour! Now all you need is a waterway. If you want to see turtles and a manatee or two, 30A is the place for you. Glide through the rare, Coastal Dune Lakes and carry your board across a few feet of sand to find yourself surrounded by saltwater. Are boats more up your alley? The tranquil waters of the Destin Harbor and nearby canals are the perfect place to learn the sport and do a little sight-seeing.
If you want to stay on the mainland, you can skip the gym and still tone. Just rent a bike and pedal your way through our beach towns. Florida is home to some of the longest paved rail-trails in America. One of our favorites is the South Santa Rosa Loop. Start the tour and embrace the funky and colorful beach homes in Navarre Beach. Once you hit the National Seashore, soak in the ocean views until you arrive along the sandy shores of Pensacola Beach. 40 miles all together – this ought to cover that morning workout.
Game, set and match… almost. There's no better way to finish off your spring vacation than with a little tennis. It's the perfect sport to test your endurance and disguise running. Not to mention, most people can burn between 359 to 636 calories per hour as they play. What we love even more about the sport is that you don't have to seek it out. Choose to stay at one of our many beachfront vacation rentals, walk downstairs and take advantage of the onsite community courts.
See how easy it is to keep up your New Year's resolution when you vacation on the Gulf Coast? Book now, and check out our Gulf Coast Guide to plan your upcoming trip day by day.