It's Not Too Early to Start Planning Your Snowbird Getaway to the Gulf Coast
Beat the migration and book your favorite Gulf Coast vacation rental before it is too late! It is time to start planning your 2023 Snowbird getaway to the Gulf Coast. There is so much to plan before you arrive including finding the perfect rental, discovering what events are in the area you choose to call home, and even deciding if members of your family are going to come down and join you during your stay. Continue reading for insight on how to successfully map out the perfect Snowbird stay.
Which City Should You Choose?
First, you must decide which area along the Gulf Coast you want to call home. They each offer different cuisine, activities, and accommodation types. Choosing the right community for you is key to having an enjoyable stay. We included details of the most popular places for Snowbirds on the Gulf Coast below to give you an idea of what each area offers.
30A – Scenic Highway 30A is home to stunning architecture, local boutiques, upscale dining, and beautiful beaches. When you stay on 30A you are exposed to different neighborhoods that make up the highway. This allows you to experience something new in each neighborhood without traveling far from your rental.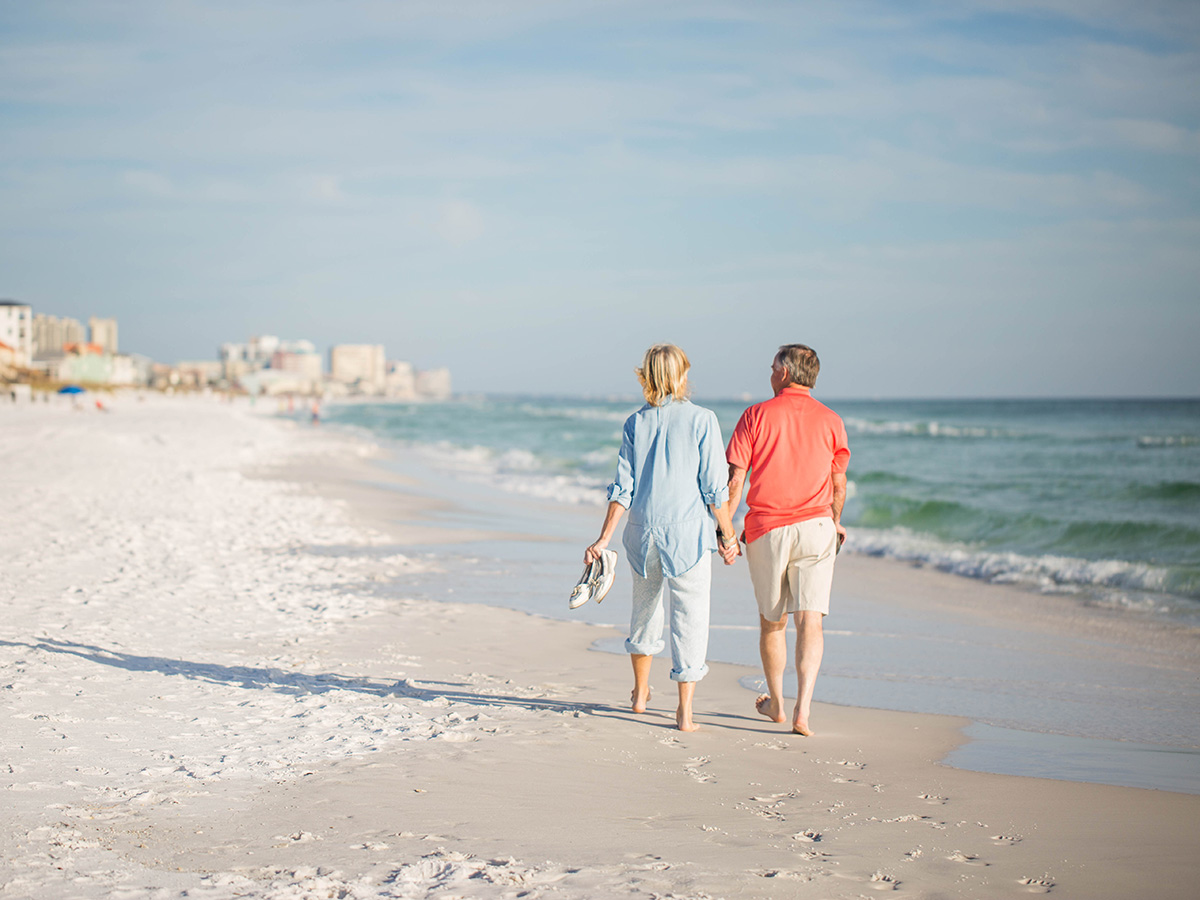 Destin – The city of Destin is known for its activity and excitement. There are delicious restaurants, water activities, and great shopping around every corner. Destin has a rich fishing history and a strong sense of community. It is a great spot for Snowbirds who will have frequent visitors coming to stay with them.
Pensacola Beach – Similar to Destin, the community of Pensacola Beach takes pride in its history. One characteristic that makes Pensacola Beach stand out is the Downtown area. This spot is great for those who enjoy art, nightlife and walking around local boutiques. There are even historical tours allowing guests to learn something new about the area.
Gulf Shores – Coastal Alabama has it all! From peaceful and relaxing surroundings to excitement and delicious dining, Gulf Shores, AL is perfect for the Snowbirds looking to experience a bit of everything. There are also incredible Ecotourism opportunities found here.
Which Accommodation Style Should You Choose?
Are you planning on having members of your family come visit while you are in town? There are a few things to consider when booking your Snowbird getaway to the Gulf Coast.
A vacation home is going to offer more room for unpacking, there may be a backyard and more parking.
A vacation condo is likely to be beachfront showcasing views of the shore and offering more community amenities.
There are exceptions to both items listed above. Make sure to do your research before booking and give us a call with any questions! Weigh what is most important to you and your crew before booking your stay.