Paddleboarding, Surfing, & Yoga at the Beach ~ Southern Vacation Rentals
Warm weather is finally here! Can you tell how excited we are? We've been dreaming of warm beach weather since the first cold snap in October, and the upcoming forecast sure did not disappoint. The best news? Warm weather is here just in time for your Spring Break! Whether you're getting away for a week away or taking a "just because" vacation, the warm weather is calling your name. And, for fitness gurus, you're in luck – warm weather means lots of opportunities for waterfront workouts! From paddleboarding to surfing and even yoga at the beach, there are so many great opportunities to stay in shape while on vacation. Check out a few of our favorite places to work out at the beach along the Gulf Coast!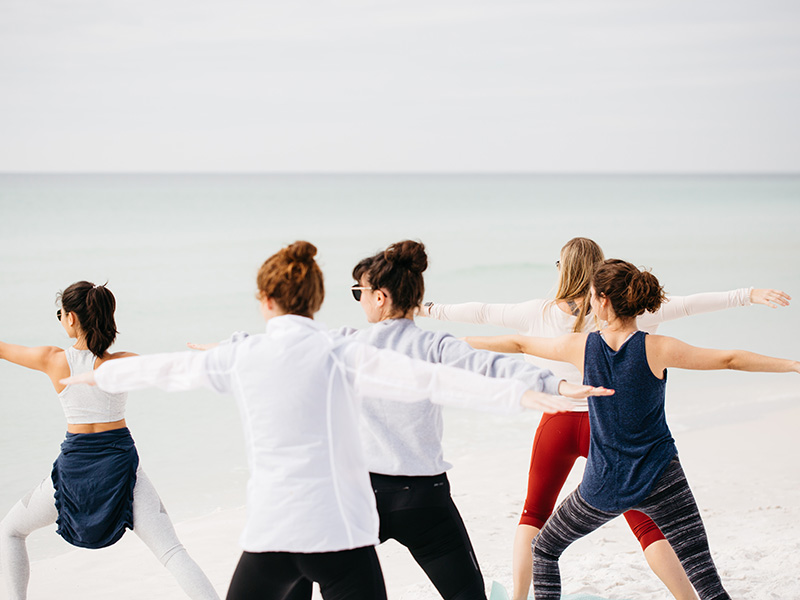 Paddleboarding
Want to paddleboard through some of the Gulf Coast's best waters? Then you're in luck, as there are a seemingly unlimited number of opportunities to do so. Paddleboarding is a popular sport that anyone can do. Participants sit, stand, or kneel on a paddleboard in open water and push themselves forward using a paddle. Here are a few of our favorite paddleboard companies along Northwest Florida and Coastal Alabama:
Navarre SUP serves Navarre Beach and Pensacola Beach with paddleboards and kayaks to cruise through the water. They even offer free pick-up, drop-off, and delivery anywhere along Navarre Beach and Pensacola Beach. In addition, you can get special pricing for group and multiple board discounts no matter what you choose.
Panama City Paddleboards is the original paddleboard rental business in Panama City Beach. They'll deliver your paddleboard or kayak to your Panama City Beach condo rental just a few minutes after placing your order! They offer some of the most stable paddleboards in the business to ensure you have a smooth experience. And, if you want to go out but the Gulf is too rough, they also offer a new Shell Island excursion for calmer waters.
If you're in the Gulf Shores and Orange Beach area, then be sure to give Paddled By You a call! This family-owned and operated business along Alabama's Gulf Coast offers the lowest hourly and daily rental rates in the area. They're now open for spring and summer reservations and ready to help you enjoy your time on the water!
Surf Lessons
Surf's up! Surfing isn't just for tropical islands – you can surf on the Gulf Coast too! See some of our tried and true favorite surf places from Panama City Beach to Gulf Shores and be sure to book your lesson. You may find an exciting new skill!
 Ride On Surf School remains our favorite place for surf lessons in Destin. They run an official Billabong surf camp from Monday – Sunday, 9 am until noon which is their most popular option. You'll get a two-hour surf instruction with emphasis on improving your surf skills along with two tents to relax under and a Billabong grab bag.
Innerlight Surf Shop on Pensacola Beach is a longtime family business founded by a Pensacola native who wanted to bring his love of surfing to the area. They've been around since 1969 and offer private surfing lessons, surf camp, surf parties, and surfboard rentals. If you want to learn to master the waves, this is the place to do it!
Yoga Classes
Yoga may be relaxing, but it's also a great workout. Couple that with the white quartz sand and emerald green water, and you're in for a treat. Check out some of our favorite spots to do yoga at the beach – you'll be feeling refreshed and rejuvenated in no time. We guarantee it!
Balance Health Studio in Seagrove Beach is 30A's most popular fitness studio on 30A, and it won't be long until it's your favorite, too! Lessons take place in an old beach house turned fitness studio and offer incredible Gulf views to accompany your class. Then, after a good workout, just head down to the beach to decompress in the Gulf!
Destin Beach Yoga remains one of Destin's most popular activities for yogis on the Gulf Coast, as it combines a deep love of yoga with beachfront exercises. Open to locals and tourists alike, choose from a variety of classes for each yogi. Holy Yoga takes place on Wednesdays while Sunset Yoga returns in May. There is no sign-up needed for classes, and they even offer private sessions specializing in group events.