Activities For Memorial Day Weekend In Fort Walton Beach!
What better way to celebrate Memorial Day Weekend than on the beach? Spend the weekend relaxing in the sun and enjoying quality time with your family or friends. Each area on the Gulf Coast celebrates Memorial Day differently! No matter where you are staying on the Gulf Coast, you will find events and activities for everyone in your party! Check out our favorite activities for Memorial Day Weekend in Fort Walton Beach below!
Pirate Show
Al's Beach Club and Burger Bar in Fort Walton Beach hosts one of the best pirate shows on the Gulf Coast! It is interactive and features music, storytelling, games, balloon bending, and a little bit of magic. Your kids are sure to love this event in Fort Walton Beach. The Pirate Show occurs every Monday from March to August. The show will last from 5 pm – 8 pm. So grab a bite to eat and help discover the scallywags that took over Al's Beach Club and Burger Bar!
Deana Carter by Mattie Kelly Arts Foundation
To kick off Memorial Day weekend, enjoy a night under the stars with great food and music! On Thursday, May 27th, Deana Carter, a talented musician from Nashville, TN will play from 7 pm – 9 pm. Deana Carter has a rich history in writing and producing country music. Not only did she find success in co-writing and co-producing her own album that made its way up to the top of both the country and pop charts but has also had a hand in writing other popular tunes.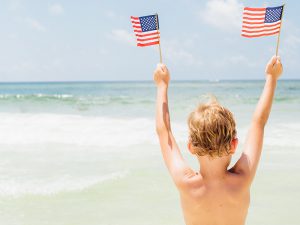 On top of these two incredible events, there are tons of things to do in Fort Walton Beach during Memorial Day weekend!
Visit our Gulf Coast Guide to find more things to do in Fort Walton Beach for the whole family! Looking for a place to stay during Memorial Weekend? There is still time to book a beautiful condo in Fort Walton Beach! Check out our vacation rentals in Fort Walton Beach here!