Coastal Cobb Salad
Looking for an easy meal the whole family will love? Not only will this coastal cobb salad please even the pickiest of eaters, but it is also simple and quick to make! A timely ingredient prep and 4 steps later, you have a beautiful cobb salad that will stay fresh for days!
There are many different ways to make a classic cobb salad. Choosing a variety of ingredients and vinaigrettes are two ways to make this simple salad recipe your own.
A cobb salad is the perfect meal for those who meal prep and may have leftovers sitting in the refrigerator. This would be a great place to use up leftover chicken breast, blue cheese, or crisp bacon. If you are not the meal prepping-type, preparing all the ingredients from scratch won't take long.
This specific cobb salad recipe is the perfect balance between greens, toppings, and dressing. We are confident this could become your next go-to meal when craving something light yet fulfilling. We put our own spin on it, making it a coastal cobb salad by adding fresh shrimp. You can enjoy this meal from the comfort of your own home or while taking in the view in one of our Gulf Coast vacation rentals.
Let's dive in!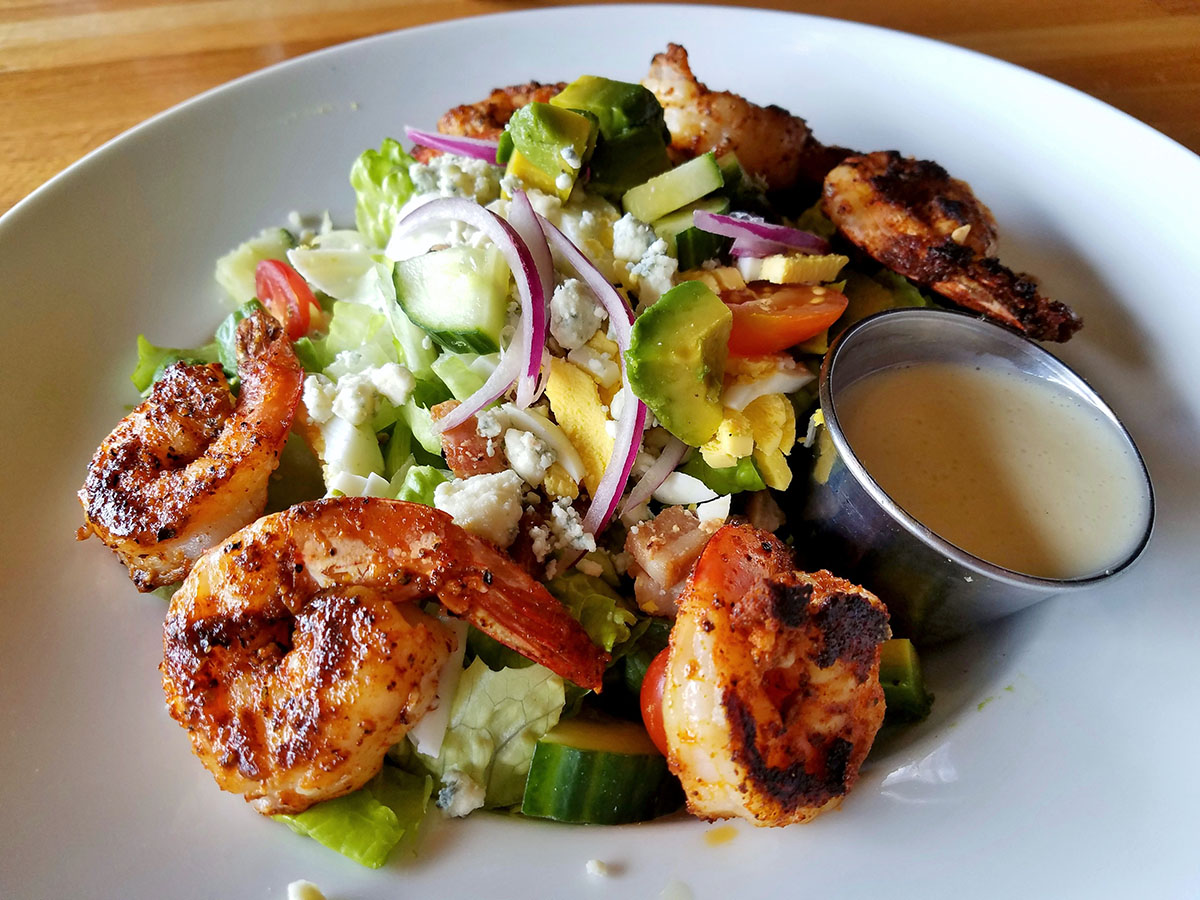 Coastal Cobb Salad
Yields 8 Servings
Prep-Time: 15 minutes
What you'll need:
Measuring cups and spoons
Mixing bowls
Whisk or jar
For the red wine vinaigrette:
½ cup olive oil
3 tbsp red wine vinegar
1 tbsp Dijon mustard
2 cloves garlic, minced
1 tbsp dried oregano
½ tsp kosher salt
¼ tsp freshly ground black pepper
For the salad:
10 cups chopped romaine lettuce (from about 2 large heads)
1 bunch watercress
1 medium cucumber, halved and thinly sliced
4 oz cherry tomatoes, halved
1 large shallot, thinly sliced
3 oz crumbled blue cheese
8 oz cooked shrimp
6 slices bacon, cooked until crisp and chopped
2 large hard-cooked eggs, peeled and quartered
1 large avocado, diced
How To:
To make the red wine vinaigrette, whisk all of the ingredients together in a bowl. Or, add to a mason jar and secure the lid tightly before shaking to combine.
Wash the romaine and watercress, then dry them both very well. Toss together in a large bowl, evenly distributing the greens.
Place the rest of the ingredients atop the greens: shrimp, cucumber, avocado, tomatoes, blue cheese, bacon, and shallots. You can arrange them beautifully or create a pile of toppings.
Before dressing the salad, toss everything together using tongs. We recommend drizzling half of the vinaigrette first and then taste. Add more if you prefer a bolder flavor.
Enjoy!
Visit our blog to see what else we're cooking up!