Get in Shape for Spring Break in Destin ~ Southern Vacation Rentals
There are just four days left in January, and if you resolved to get in shape or be healthier this year, how are you doing on your goals? Spring Break is right around the corner too, providing some extra motivation to hit your goals. We don't know about you, but one of the hardest things to cut back on when trying to be healthier is sugar. Next time you want a sweet treat, make these healthy chocolate bars with sea salt instead. Not only are they easy to make and tasty, but good for you as well! Plus, since there are no eggs, you don't have to worry about baking. Just pop them in the freezer and voila! These healthy chocolate bars with sea salt will surely help you get in shape for Spring Break in Destin in no time. Or, if not Destin, then wherever you are vacationing along the Gulf Coast for Spring Break!
The best part about this recipe? You don't have to restrict yourself to making it just as home! You can easily make this in your Gulf Coast vacation rental since all of the ingredients can be found at a local grocery store. Additionally, you can easily use honey or maple syrup for this recipe. We opted for the organic agave syrup; this sweetener is a great substitute for real sugar because of its low glycemic index and inability to spike blood sugar. The addition of the Medjool dates also adds a little sweetness and contains a multitude of other benefits.
Ready to make these? Let's get started!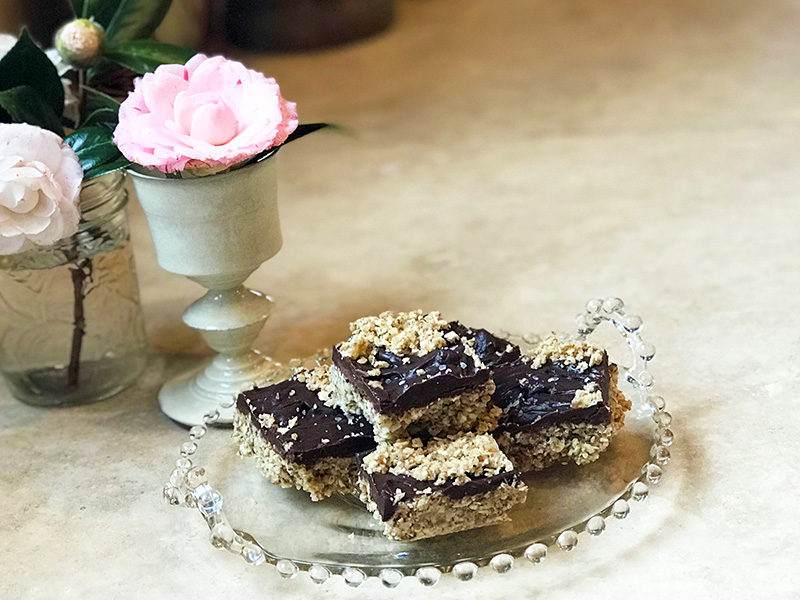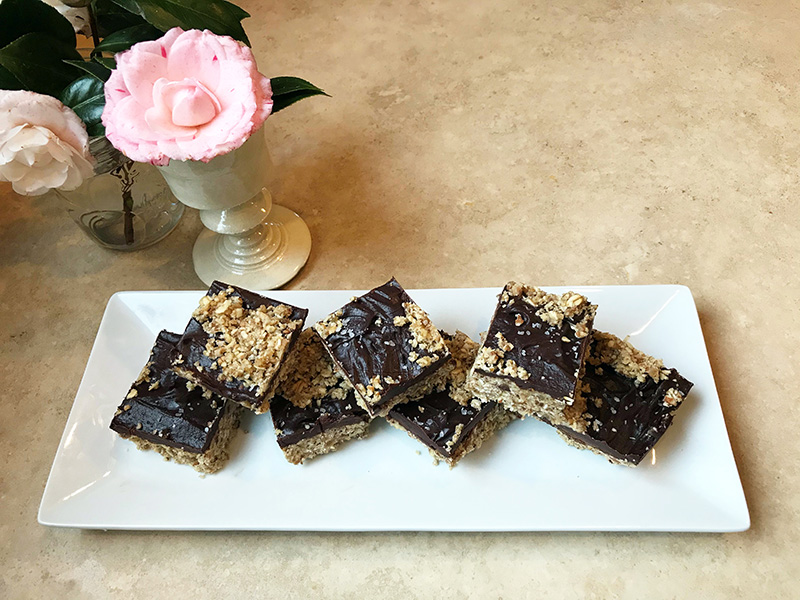 What You'll Need:
For the Crust:
| | | |
| --- | --- | --- |
| 1 1/2 cups of pecans | 1 1/2 cups of oats | 1/2 cup coconut oil, melted |
| 8 whole, pitted organic Medjool dates | a pinch of coarse sea salt | |
For the Chocolate Filling:
| | | |
| --- | --- | --- |
| 1/2 cup cocoa powder | 1/4 cup coconut oil, melted | 1/4 cup organic agave (can also use maple syrup or honey) |
Preparation:
The Crust:
Combine and pulse all ingredients for the crust in a food processor. Set aside about 1/2 cup of the mixture.
Press the remaining crust mixture into a 9×5 pan lined with parchment paper (for easy clean-up).
Chocolate Filling:
Whisk the chocolate filling ingredients in a small mixing bowl until smooth.
Pour evenly over crust
Dab the top of the filling with the remaining crust and press gently. Sprinkle with extra sea salt.
Place in the freezer and chill for two hours before cutting into bars.
Serve and Enjoy!
Have you seen our other food recipes on our
Gulf Coast Blog
? If you've tried and made any of these recipes, we would love to know! Let us know on our
Facebook
,
Instagram
, or
Twitter
pages. And, if you are getting ready for Spring Break in Destin, be sure to browse our
Gulf Coast vacation rentals
to find your perfect spot on the beach!