Easy Gumbo Recipe ~ Southern Vacation Rentals
Here on the Gulf Coast, we consider gumbo to be comfort food. If you're looking for a non-traditional dish to bring to your holiday dinner, this gumbo recipe is the way to go. Each gumbo recipe has four main stars: shrimp, sausage, roux, and a little bit of Cajun heat. Of course, you can always add more heat if you prefer. Normally we try and keep our Southern Scoop recipes quick and easy, but we must admit this gumbo recipe does take about an hour and a half to make. However, the payoff is so worth it in the end! Be sure to get a good start and give yourself enough time to bring it all together. A good gumbo never comes together under pressure!
The secret to a good gumbo recipe? It's all in the roux. A roux is just equal parts butter and oil and serves as the base of many of your favorite dishes. You'll find typically find roux in chowder, mac and cheese, gravy, and of course – gumbo! You may have seen recipes that call for a dark roux or a white roux. In this gumbo recipe, we'll be using a blonde roux. The longer you cook the roux, the darker it turns and the richer the flavor. A blonde roux is cooked for about 10 minutes and has a deep caramel color and a nutty flavor. Just be careful not to cook the roux any longer than 10 minutes, since we don't want a dark roux for our gumbo.
Some helpful tips for this gumbo recipe:
The Andouille sausage and shrimp are the stars of this dish. You can find Andouille sausage at any grocery store, and shrimp is always in season on the Gulf Coast. Stop by your local seafood market to ensure it's as fresh as possible.
Deveining shrimp may seem challenging, but with a little practice and finesse, you'll soon be a pro. We love the way Southern Living breaks down the process of deveining shrimp.
Of course, we'd be remiss not to let you in on our favorite place to get gumbo on the Gulf Coast. The Crab Trap has been a longtime staple in our beaches, with locations in Destin, Fort Walton Beach, and Perdido Key. Some of our vacation rentals are within walking distance too. Be sure to ask for a cup of gumbo with your meal as it's made fresh each day. Nobody does it like The Crab Trap!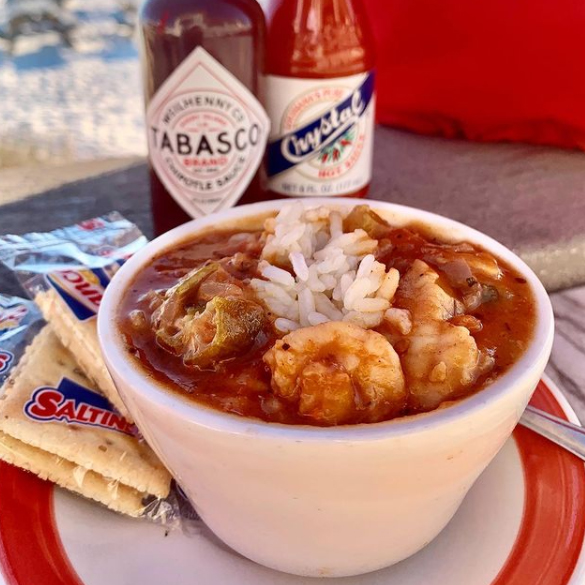 Gumbo image courtesy of The Crab Trap. Check out their beachfront locations in Destin, Fort Walton Beach (Okaloosa Island), and Perdido Key. They have some of the best gumbo on the Gulf Coast!
Ingredients
Makes: 4 servings
Prep time: 20 minutes
Cook time: 1 hour
1/4 cup 

all-purpose flour (or a 1:1 gluten-free flour)

1 

small yellow or white onion

1 

medium green bell pepper, chopped

12 oz. 

Andouille sausage, sliced into 1/2-inch thick and round pieces

1 tablespoon of salt-free

Cajun seasoning

Salt, to taste

Black pepper, to taste

1 

15-oz. can fire-roasted diced tomatoes

1 lb. 

shrimp, peeled and deveined

Cooked rice

Crackers (optional)
Hot sauce, optional
Let's Get Cookin'!
In a skillet over medium-low heat, melt the butter then slowly add flour to create a blonde roux. Stir constantly until the roux turns a caramel color (about 10 minutes).
Add the onion, bell pepper, and celery ribs and stir until the onions turn translucent and the pepper and celery soften (about 5 minutes).
Stir in garlic and sausage, then add the Cajun seasoning, salt, and pepper.
Add the bay leaf, diced tomatoes, and chicken broth. Then, bring to a boil. Reduce and simmer until thickened, stirring occasionally (about 1 hour).
In the last 10 minutes of cooking, add the shrimp. Once the shrimp is cooked through, taste and adjust the seasonings to your liking. Remove the bay leaf and stir in about half of your green onions.
Spoon the gumbo over some white rice and garnish with more green onions. Add your favorite crackers and hot sauce if you like.
Looking for more coastal recipes? Visit our blog to see what else we're cooking up!