Delicious Shrimp Ceviche Recipe – Easy to Make!
The beauty of ceviche is you can practically make it with anything you have in your refrigerator! However, when you are staying along the Gulf Coast, it is a must to include shrimp in your ceviche recipe. If you didn't know, Gulf shrimp are wildly popular and quite delicious. You can go to any local seafood market and find fresh shrimp directly from the Gulf of Mexico! This shrimp ceviche recipe is not only delicious but also super easy to make!
You may ask yourself, what is ceviche? It is typically served as an appetizer and involves raw seafood, lime juice, herbs, onion, and any flavorings you prefer. Because the seafood is raw, it is considered to be "cooked" in lime juice. This specific recipe is with cooked shrimp. We encourage serving ceviche in a small bowl with tortilla chips or crackers.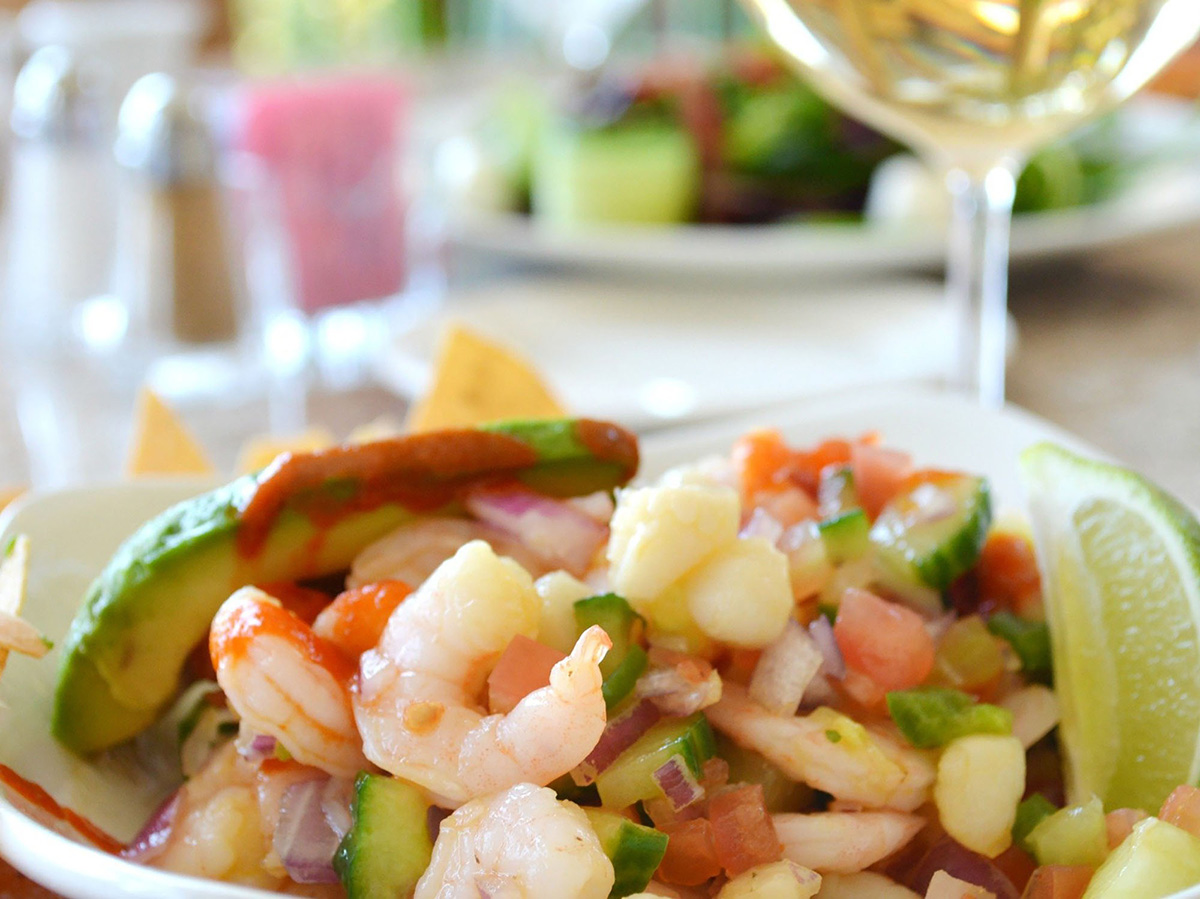 What You'll Need:
| | | |
| --- | --- | --- |
| 2 Pounds of Shrimp (cooked) | 3/4 Cup Cucumber | 1/2 Cup Lime Juice |
| 1/2 Cup Thinly Sliced Red Onion | 3/4 Cup Cilantro Leaves Chopped | 1/4 Cup Lemon Juice |
| 1 Jalapeno (Make sure to remove all seeds.) | 1 Whole Avocado (Chopped into bite-size pieces.) | 1/3 Cup Orange Juice |
Preparation:
Place the shrimp, red onion, cilantro, cucumber, and avocado in a bowl.
Pour the lime. lemon, and orange juice over the shrimp. Toss gently and ensure the ingredients are evenly coated.
Cover and refrigerate for at least 30 minutes. It is important to let it sit in the refrigerator for 30 minutes before serving so it is chilled and the flavors are able to come through.
Extra Tips:
You may need to chop the shrimp into pieces before mixing it with other ingredients. This way, the shrimp are in bite-size pieces, and you can get a little bit of everything on your chip.
Some other great ingredients to consider adding are bell peppers. tomatoes, and apples.
We recommend that if you wait to serve the ceviche for longer than 30 minutes after preparing, that you don't add the avocado until right before your serve it. This way the avocado has less time to brown.
Enjoy!
Feel like going out for dinner instead of staying in your vacation condo along the Gulf Coast? Check out our Gulf Coast Guide for delicious restaurants that serve up fresh seafood including The Crab Trap in Destin, Tacky Jacks in Fort Morgan, and Blue Mabel on 30A.