Beach Safety Tips for Your Spring Break Stay
The spring break season is one of the busiest all year for the entire Gulf Coast. No matter which community along this stretch of shoreline you plan on visiting, make sure to educate yourself on beach safety tips before you arrive!
To ensure you have a fun and adventurous getaway focused on relaxation and time under the sun, we have listed five beach safety tips below. If you follow these guidelines, you are one step closer to experiencing an enjoyable beach getaway.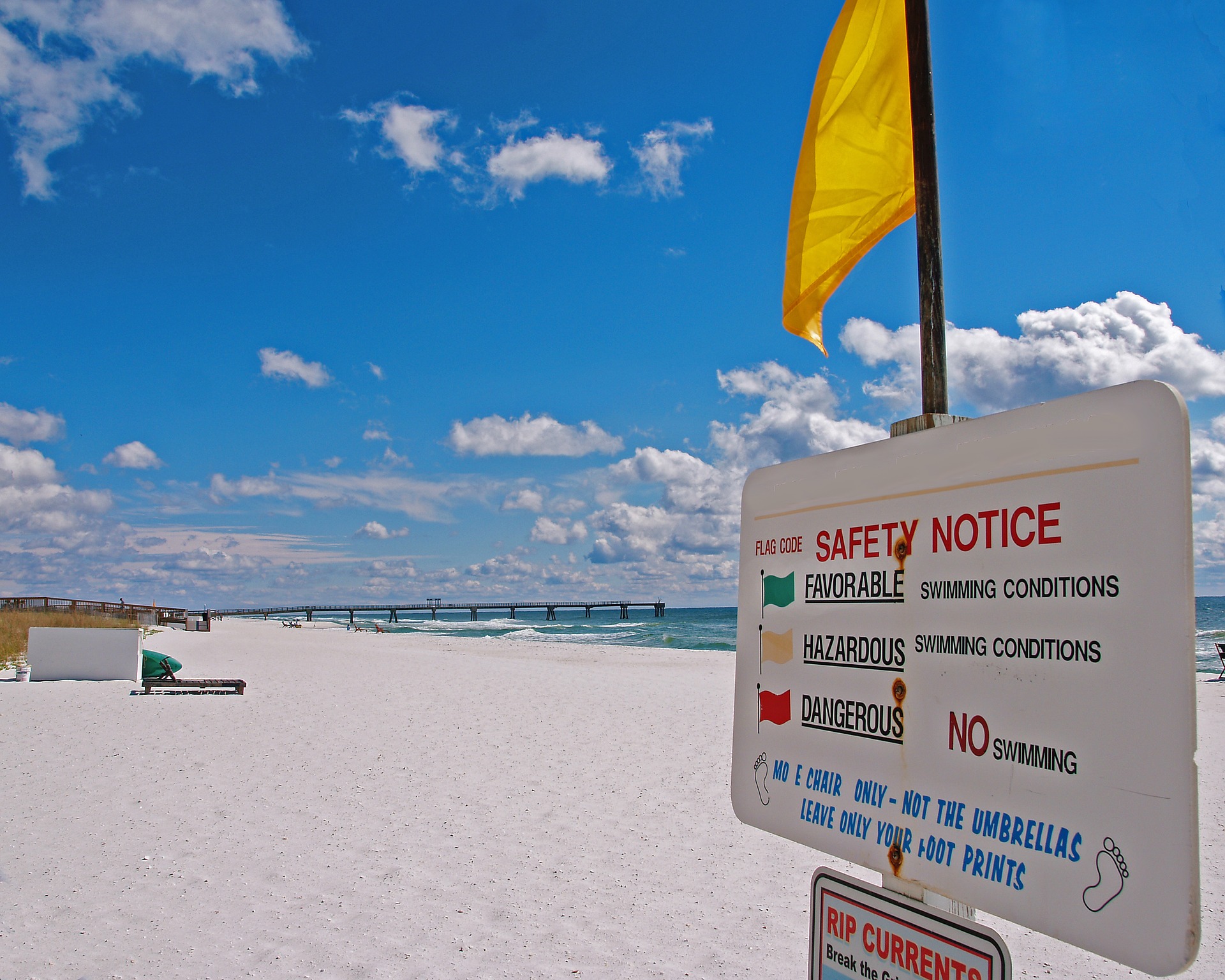 Beach Flags & Rip Currents
Starting off with one of the most important tips to be aware of, let's discuss the beach flags and rip currents. It can get quite warm when you are laying under the sun all day and taking a dip in the Gulf of Mexico is the best way to cool off. However, if you aren't careful you could run into a rip tide or jellyfish. To prevent this from happening, each beach displays flags over the sand telling you the quality of water for that day. These flags are crucial in the success of your beach day, and it is very important to check them before entering the water. See what each color flag means below.
Two Red Flags – Beach is Closed to the Public
One Red Flag – High Hazard, Strong Currents, No Swimming
Yellow Flag – Medium Hazard, Experienced Swimmers Only
Purple Flag – Marinelife in the Water, Typically Means Jellyfish
Green – Good to Swim!
Wheelchair Accessible Beaches
Did you know there are wheelchair-accessible beaches in Destin, 30A, and Pensacola Beach? The fire stations and city councils in each area saw the importance of making the beaches accessible for everyone. They have added multiple different ways to make it easy for wheelchairs to cruise over the sand. One way is by placing a beach mat down so the wheelchair glides over the mat providing a path to the water. They also have beach-friendly wheelchairs available with large tires that can carve through the sand with ease. To learn more about wheelchair-friendly beaches in Pensacola, visit our recent blog by clicking here.
Sun Protection
One of the worst ways to spend your beach vacation is by getting too much sun on the first day of your trip. Apply and reapply sunscreen as often as every hour. If you get in the water, dry off and reapply immediately. We highly recommend bringing a long sleeve swimsuit or shirt and hat for the little ones in your crew who dislike putting on sunscreen. Booking a vacation rental with an umbrella service is always a plus!
Hydration
Have you ever left the beach feeling completely drained of energy? It is likely you were dehydrated from the sun. Pack a cooler for the beach with sports drinks for electrolytes and water. Beach snacks also come in handy so you can savor time under the sun without having to go back to your rental for food. Pay attention to how much water you and your children are drinking throughout the day to help beat the heat.
Weather Awareness
The weather along the Gulf Coast can sometimes be unpredictable. Storms in the springtime and summer can pop up out of nowhere and make it dangerous to be swimming or under an umbrella. Locals love a summer rainstorm because they never last very long and typically make it a bit cooler for the rest of the day. Become familiar with your weather app and check it each morning so you can be prepared for any small batch of storms that arise.
We hope these beach safety tips are useful for your next getaway to the Gulf. Utilize these five guidelines to ensure you experience a successful stay!