Activities Near Navarre Beach
Love to vacation on Navarre Beach? This tranquil stretch of beach is located close to many fun activities that are just a short drive away. Yes, there is more to do than soak up some rays on our sugar-white sands! Venture a little off the beaten path and you'll find plenty of fun activities near Navarre Beach. From seeing wildlife at the Gulf Breeze Zoo to a day of kayaking down Blackwater River, there's no telling what you will uncover!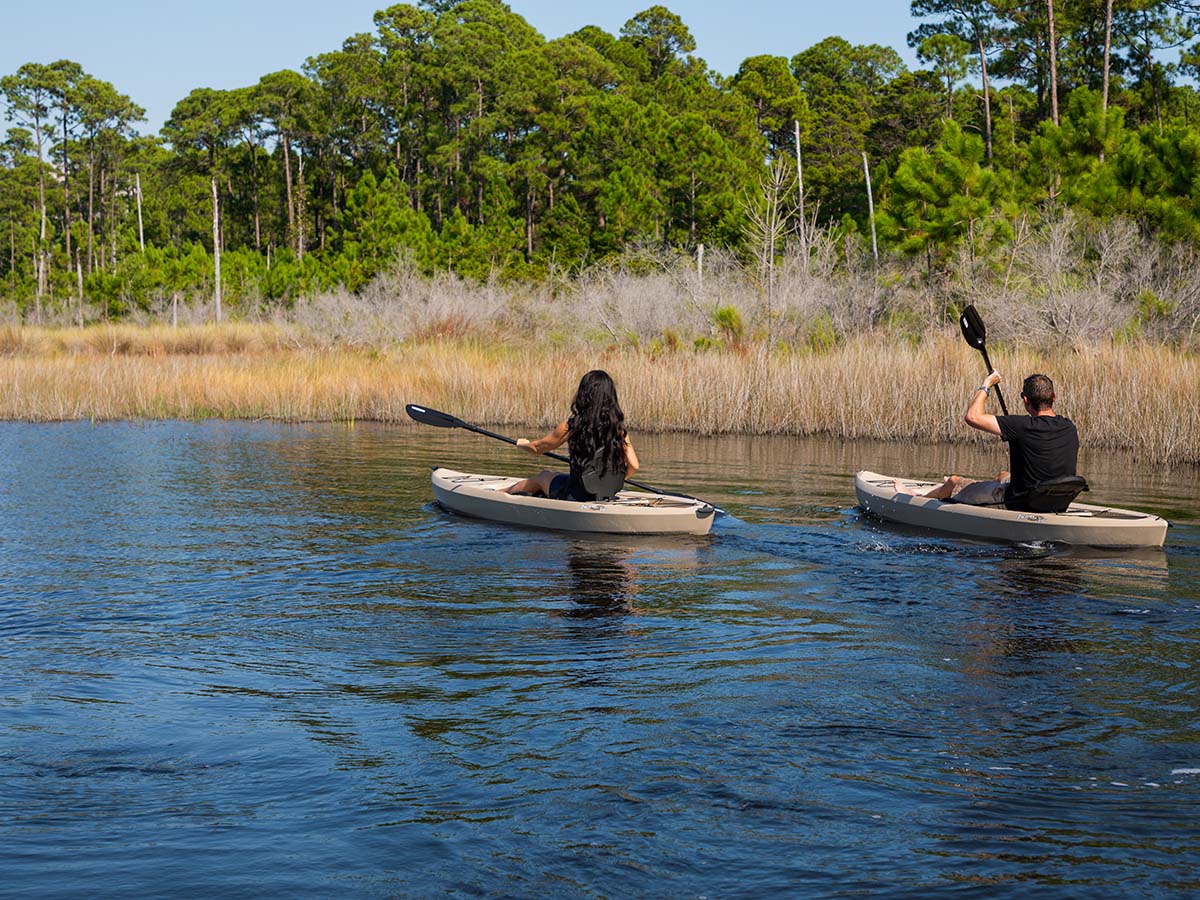 5 Activities Near Navarre Beach
Adventures Unlimited
Do you have adventure-seekers in your group? Head to Blackwater River State Forest, about 40 minutes north of Navarre Beach, and check out Adventures Unlimited. Experience a day of canoeing, kayaking, tubing, and ziplining along Coldwater Creek! It's sure to be a trip they won't soon forget.
Gulf Breeze Zoo
Not far from your Navarre Beach vacation rental, the Gulf Breeze Zoo provides an educational day of play for visitors of all ages. The 50-acre zoo is home to over 800 animals from around the world. You'll be able to hand-feed giraffes, take a guided safari train ride, and step into a free-flight aviary full of budgies, the most popular pet bird in the world.
Navarre Beach Marine Science Station
Did you bring the kids for a little remote learning at the beach? Then you're in luck since the Navarre Beach Marine Science Station offers kids an educational experience while on vacation. They're offering ocean-themed webinars, chats, skype sessions, and Facebook live events for kids and so much more! In addition, you can also check out the Navarre Beach Sea Turtle Conservation Center to learn what you can do to help out during sea turtle season.
Panhandle Butterfly House
The Panhandle Butterfly House has since relocated to Milton and plans to open in summer 2021, just in time for your trip to the beach. They are committed to the conservation of Florida's native butterflies and educating visitors on ways to protect them. Admission is free, but the center encourages you to donate at least $5 towards their operational efforts.
Fort Pickens
This is one of our favorite activities near Navarre Beach! Take the Gulf Islands National Seashore – a winding and picturesque drive – into Pensacola Beach and head all the way down to the west end of Fort Pickens Road. What was once a historical wartime fort now serves as a federally protected state park open to visitors year-round. Not only can you learn about Fort Pickens and all its features, but you can swim in the National Seashore, kayak, paddleboard, camp, see wildlife, and more. It's an educational trip mixed with some beach fun!
For more fun things to do in Navarre Beach, visit our Navarre Beach Gulf Coast Guide.