Vacation Rentals with Great Kitchens ~ Southern Vacation Rentals
Did you know the kitchen is oftentimes the most important room in the home? Next to the bedrooms, you spend the most amount of time in the kitchen. We know that kitchens are one of the first things we scope out when looking for vacation rentals at the beach. It's a place to come together with family, show off our culinary skills, and prepare tasty snacks for the beach. Kitchens are also an excellent place to show off your skills as an interior designer, as there are so many options for decorating a kitchen. Choose from granite, marble, and tempered glass countertops, stainless steel appliances, custom cabinetry; there are so many unique ways you can make a kitchen truly your own. Check out some of our favorite vacation rentals with great kitchens for your next getaway below!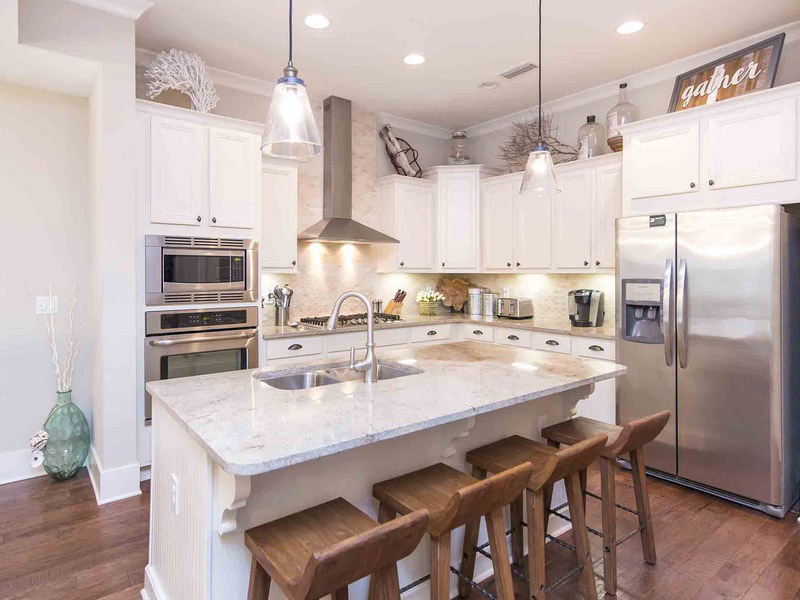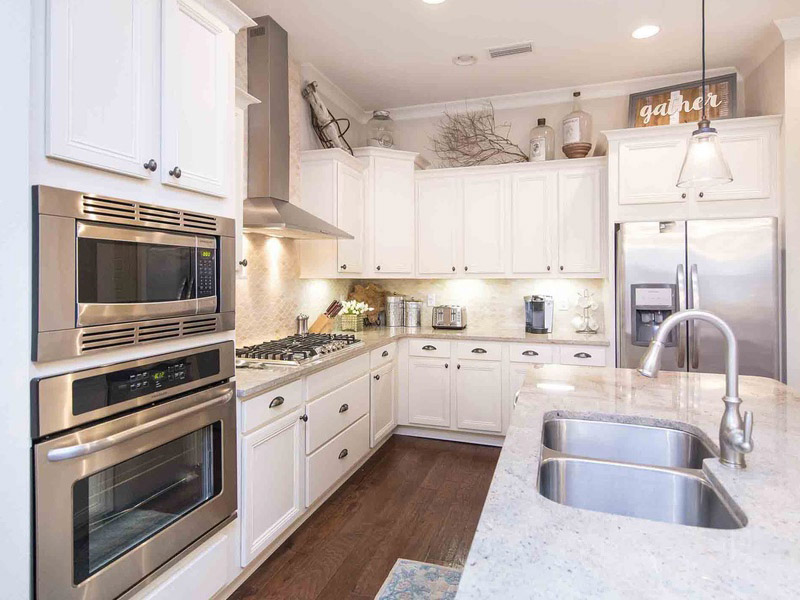 Fall in love with this stylish kitchen at 30A Charmed Waters in Blue Mountain Beach's Highland Park neighborhood. With elegant craftsmanship that includes custom cabinetry, granite countertops, and stainless steel appliances, there is more than enough room to house all of your treats for the week. Plus, the coastal elements sitting above the cabinetry tie this functional yet chic space together.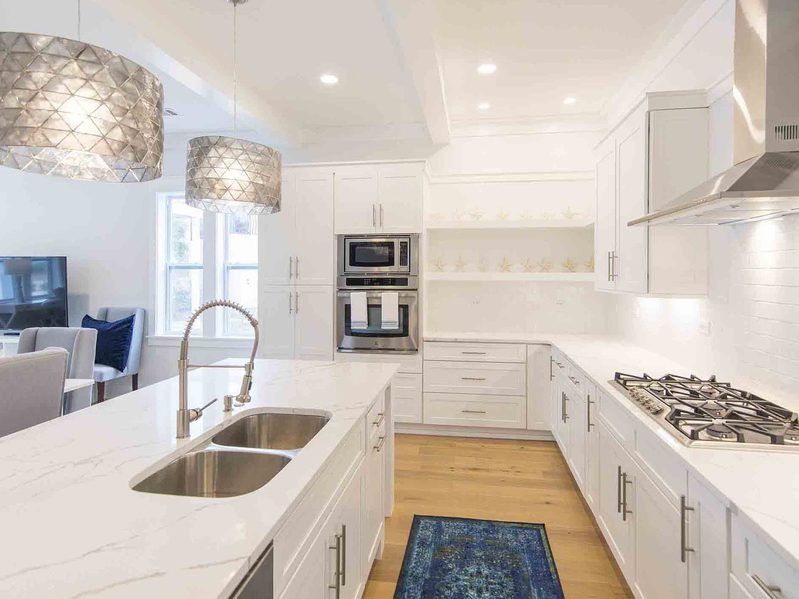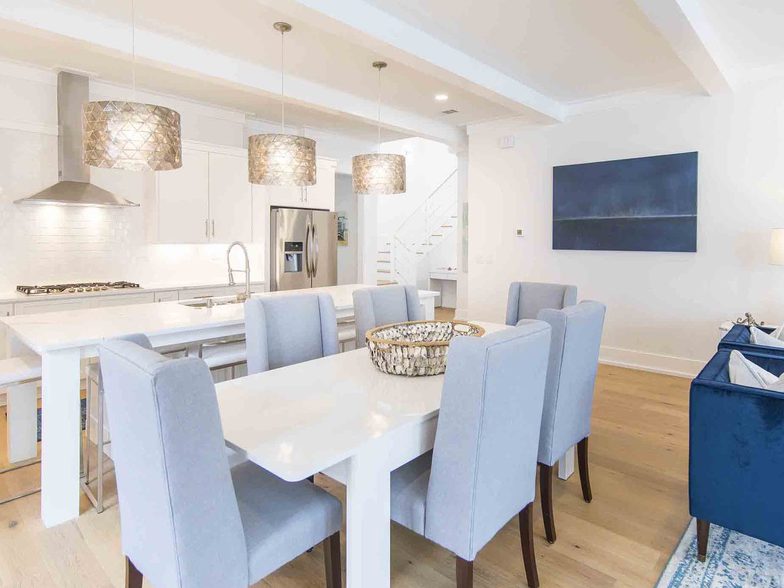 Are you bringing a large group on vacation? Then you'll definitely need a home like DESTINation Sunset. This large house boasts enough room for 16 guests and is truly among the vacation rentals with great kitchens. A large quartz kitchen island houses a farmhouse sink, complemented by modern and stylish light fixtures. Quartz countertops adorn the rest of this space in addition to stainless steel appliances and a gas range stove. In addition, the living room's open floor plan allows for conversation to flow seamlessly through the home.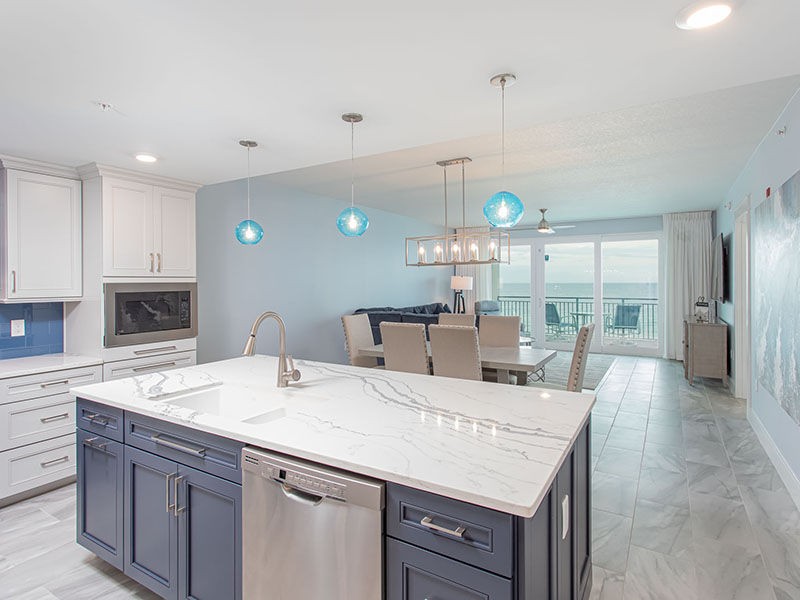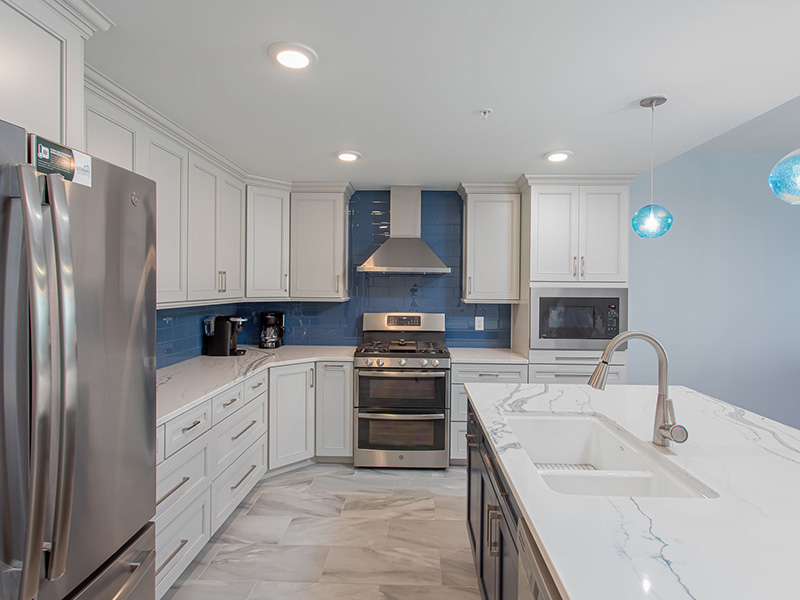 Looking for a luxurious condo rental in Fort Walton Beach for your vacation? Look no further than Blu 606. Every inch of this incredible two-bedroom condo is adorned with high-end furnishings, but the kitchen is what really stands out among its own. Quartz countertops, a Lapis blue kitchen backsplash with hand-laid subway tile, and top of the line stainless steel appliances bring this space together. Additionally, the cabinets are custom designed and a brand-new installation. You'll enjoy preparing a great meal with the sight of the Gulf in the background as well!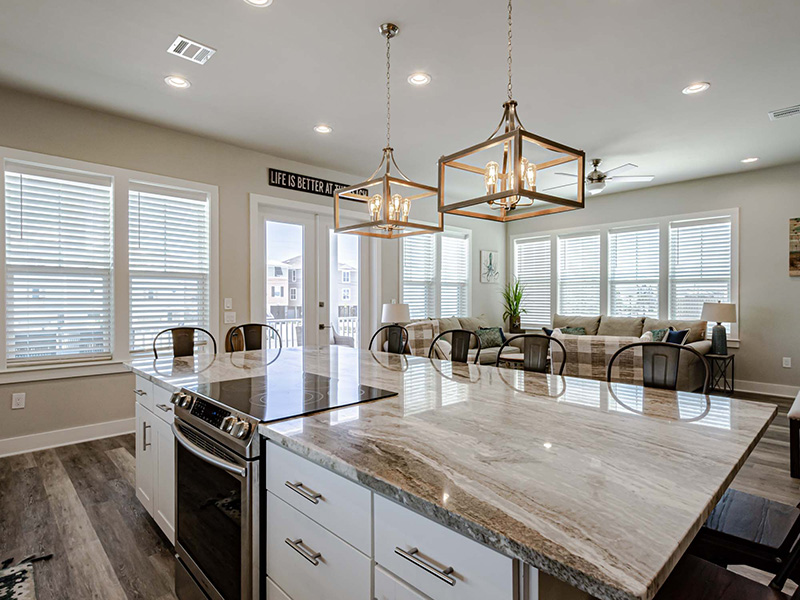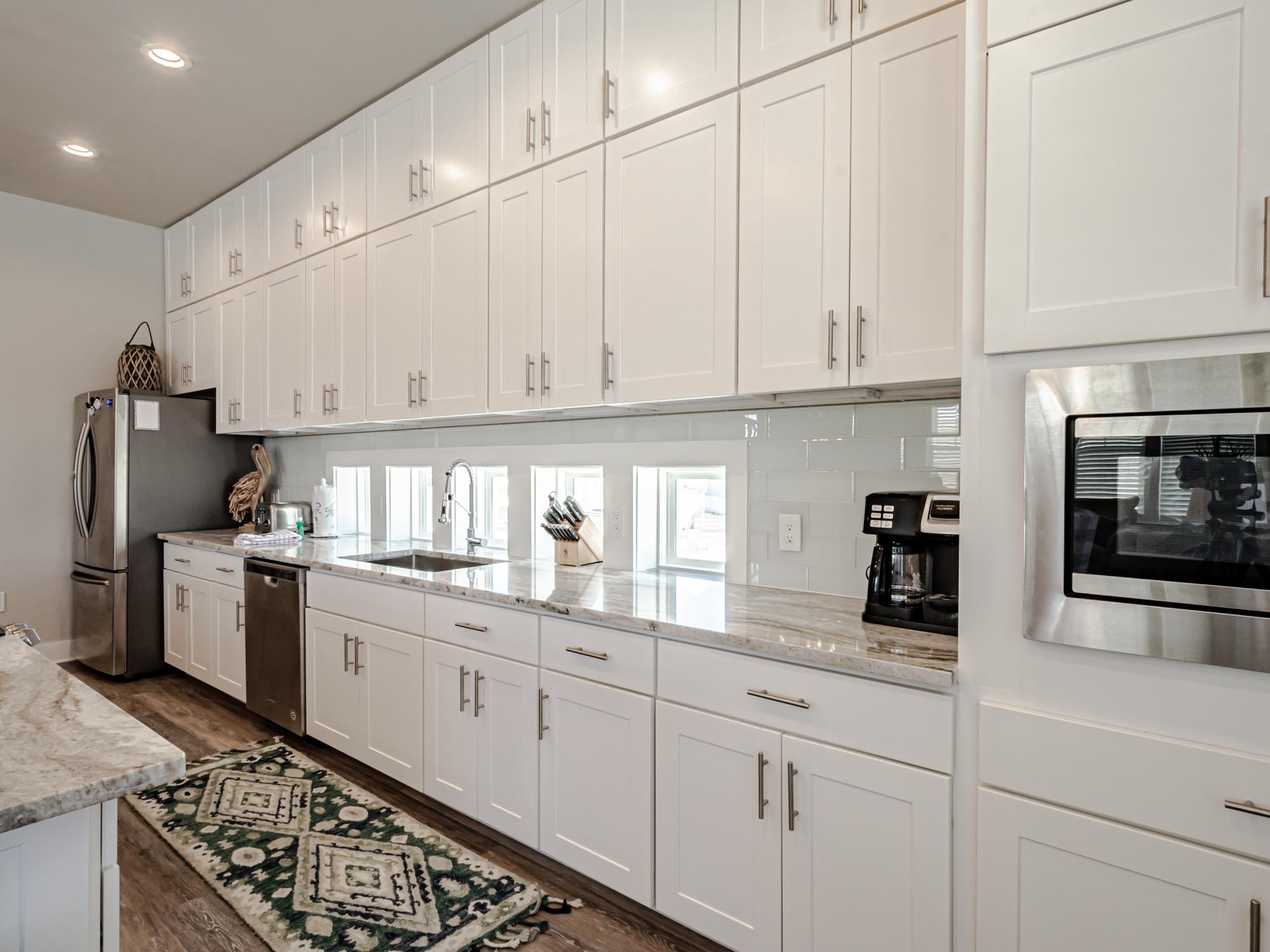 Vacation rentals with great kitchens often have custom-designed spaces, and Just Beachy is no exception. This large four-bedroom vacation home in Navarre Beach can accommodate 16 guests, so you know the kitchen has to be big enough to accommodate everyone. Fortunately, it is! The open space boasts floor-to-ceiling countertops, brand new granite counters, and decorative pendant lighting hanging over the island. In addition, the island has a built-in electric range stovetop, freeing up the counters behind it for more space to hold all of your snacks and supplies.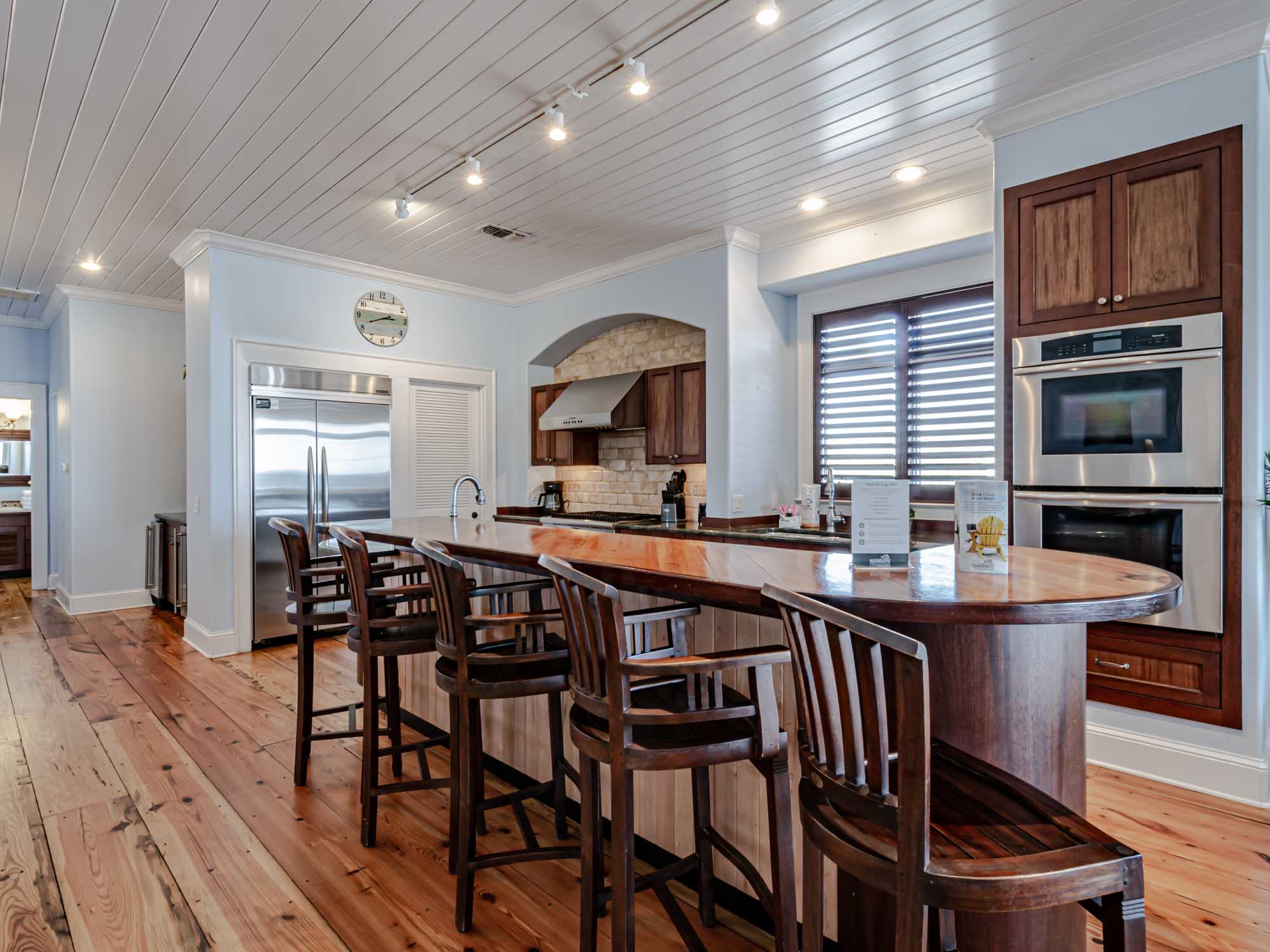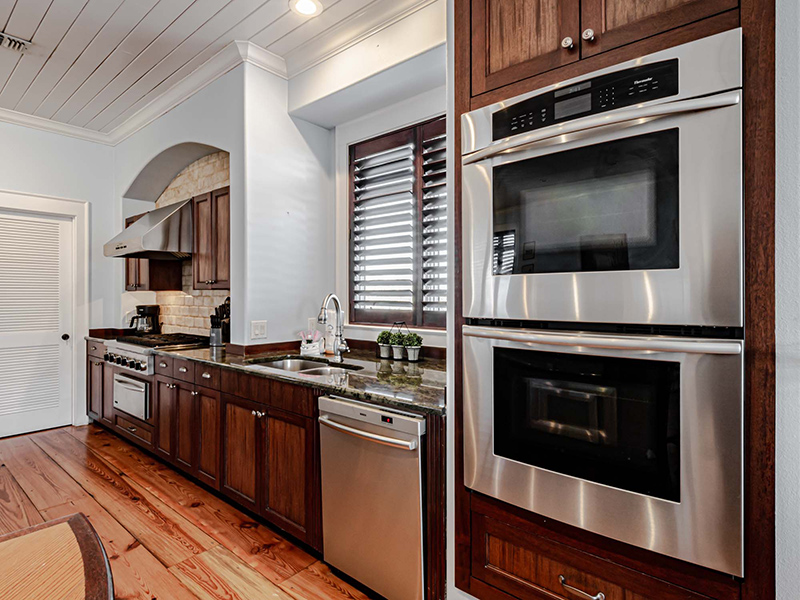 There's nothing like cooking with a view on vacation, and La Casa Folé does not disappoint. This four-bedroom home can sleep 17 guests and has an incredible kitchen complemented by rustic hardwood floors and a breathtaking view. Brand new upgrades in the kitchen include a built-in KitchenAid fridge, custom mahogany cabinets, and dual Thermador ovens. The track lighting overhead softly illuminates your dishes, setting a perfect stage for foodies, and the exposed brick behind the gas range stove brings a unique warm feel to this kitchen.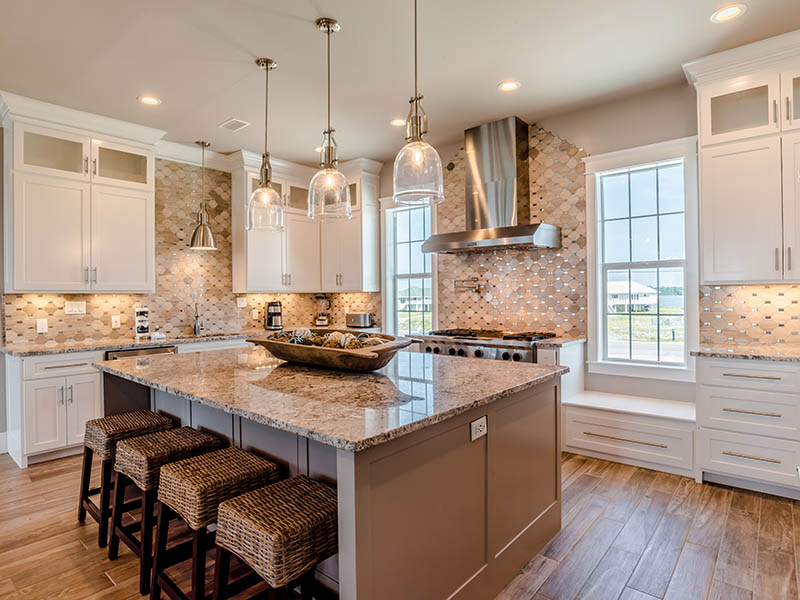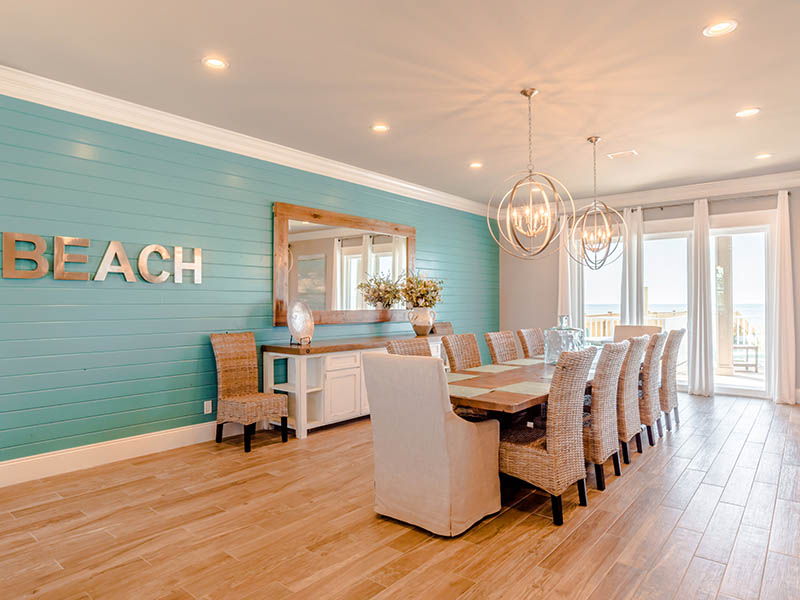 Cooking can be very therapeutic, and you've got just the perfect setting for this at Beach Therapy. Located on the sugar-white sands in Gulf Shores, this coastal kitchen will have you feeling right at home. Glass pendant lighting, stainless steel appliances, and exposed mosaic tiles in warm neutrals complement the granite countertops and white cabinets. Not to mention, an open floor plan allows everything to flow smoothly from the kitchen to the dining room and living room. And, if you want to dine outside, you only need to take a few steps out of the kitchen and through the balcony doors before you're dining on the Gulf.