2020 Walk to End Alzheimer's in Fort Walton Beach ~ Southern Vacation Rentals
Here at Southern Vacation Rentals, we are proud sponsors of the Alzheimer's Association. More than five million Americans are living with Alzheimer's, and it's likely you know someone who has been affected. There is no cure for Alzheimer's, but through the efforts of the Alzheimer's Association, we can work toward finding a cure. As members of our local Central and North Florida chapter, we show our support through volunteer efforts and donations. In addition, each year we participate in the Walk to End Alzheimer's in Fort Walton Beach with our chapter and Southern team members.
However, this year, the schedule for the walk looks a little different than planned! This year's Walk to End Alzheimer's is not just in Fort Walton Beach – it's everywhere! Rather than have a large in-person gathering, the Alzheimer's Association is asking those wanting to participate to walk in small teams instead. By keeping groups limited to small groups of friends or your family, we can make health and safety a priority.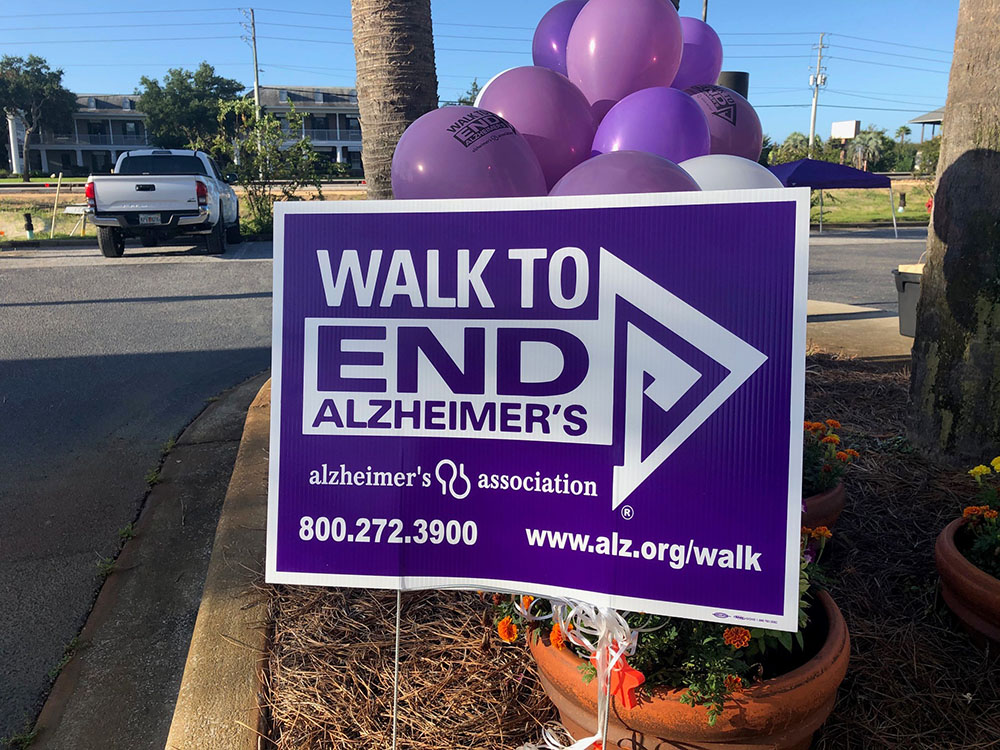 How to Get Involved with the Walk to End Alzheimer's
The good thing about a virtual walk is that it happens anywhere! You don't need to be local to participate. The Walk to end Alzheimer's is the world's largest event to raise awareness and funds for Alzheimer's care, support, and research. Wherever you are, you can walk and help raise funds. Join an existing team (like our Sweet Southern Walkers) or start your own team and help raise funds. Registration is free, and all participants are encouraged to help fundraise to help advance the mission of the Alzheimer's Association.
The Sweet Southern Walkers are walking to end Alzheimer's on Saturday, October 10th at 9:15 AM. Join us on your favorite trail, sidewalk, or track. You can even lace up your sneakers and walk down the beach with us for a great scenic view!
Looking for more ways to get involved? The Alzheimer's Association has numerous ways you can support the cause, from advocacy to donating funds and even workplace giving. Every dollar and minute you give benefits those affected by Alzheimer's disease, https://xanaxtreatanxiety.com. You can even volunteer virtually through online advocacy programs and shopping for the cause. Learn how you can get involved and make a difference today.
Visit our Southern Cares page to learn more about our commitment to giving back to the communities we serve.